By: Trivia Lord, the Minutia Master, the Human Wikipedia, Busboys Trivia Host, Max Johansen
The First Takoma Trivia of 2019 kicked off with a full house and an epic three way tie!

In honor of the (now record-breaking) government shutdown, the theme of our first trivia event of the year was: SHUT IT DOWN! Ten teams showed up hungry for the first W of the season, with…let's called it mixed success.

Longtime competitors Trivia Newton-John jumped out to an early lead with nearly perfect rounds 1, 2, and 3. Ice, Ice, Maybe (We Know It) nipped at their heels in the early game, tying TNJ in the food and history rounds, but falling hard in the literature round.
Since January is National Book Month, the literature round focused on National Books and Literature! Questions ranged from the sagas of the old Norse, to the Popol Vuh of the Mayan peoples. I hope people came away learning something valuable about the history of national literary manifestations, but even if they didn't, it's just fun to say "Popol Vuh".
Then We Break
Before the break, we got a lesson in grammar from Takoma, (un)LTD, when confusion about "between" and "among" sprang forth. After a break for scoring, Busboys and Know-its snuck into a tie for second place with Ice, Ice, Maybe (We Know It). The current events round proved especially difficult for most of the teams. Possibly because there are literally just too many insane things happening around the world to keep track of? I don't know. Maybe it's all in Lord Cthulu's plan.

Some teams such as Greedy Girls, The Bison, Tequila Mockingbird (great name, definitely up top for best team names so far) and Sharks Swim Solo had purchased year-long farecards for the Struggle Bus, and languished in the bottom half nearly all night. That didn't stop them from enjoying themselves, though! Even the upperclassmen of Takoma (un)LTD got a few laughs out of it. When asked during the theme round, where all answers contained the words "shut", "down" or both, to finish these famous DMX lyrics, "Stop. Drop Blank Blank Blank. Open up shop," they gave it their best guess:

"Stop. Drop. Shut the f%$& up. Open up shop." Great effort.

And after it was all said and done? Well, Busboys and Know-Its, Trivia Newton John, and Ice, Ice Maybe (We Know It) were in a dead heat for second.
But who stood above all?
Coming in from fourth place at the break, smashing through the final three rounds with unparalleled accuracy was the quiet, the stoic, the possibly vegan champion squad: My Treehouse. Congrats to our first victors of the year! We hope they can defend their title next week when we are joined by our special guest FairVote, for an evening about election justice.

We also hope those who came so close and fell short will avenge their finish and prove that they have what it takes to be trivia champs!
Join us on January 21, 2019 at Busboys Takoma for our next night of Takoma Trivia with Special Guest FairVote.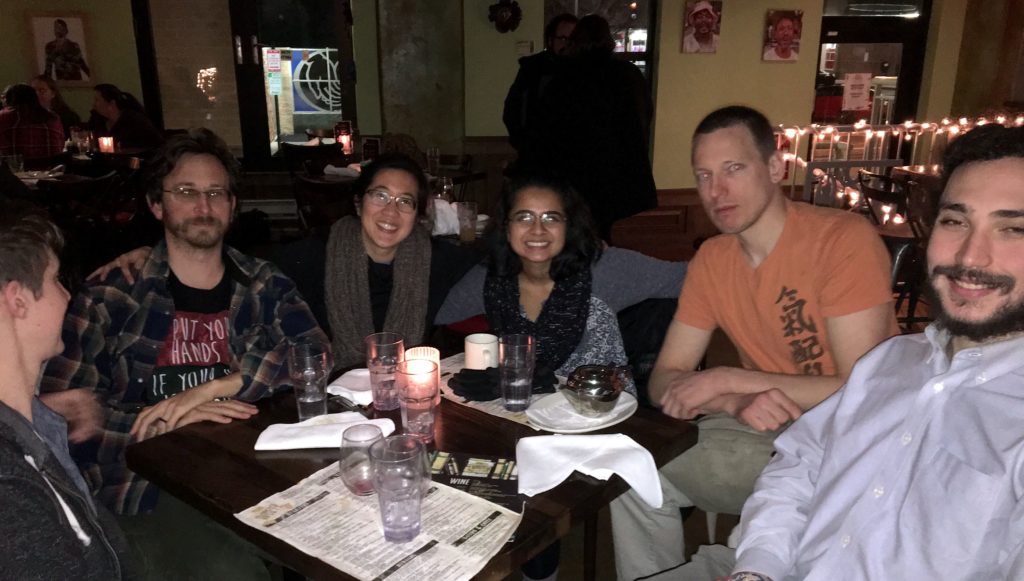 Team Trivia Newton-John

Team Sharks Swim Solo

Team Greedy Girls

Team Ice, Ice Maybe (We Know It)

Team Tequila Mockingbird