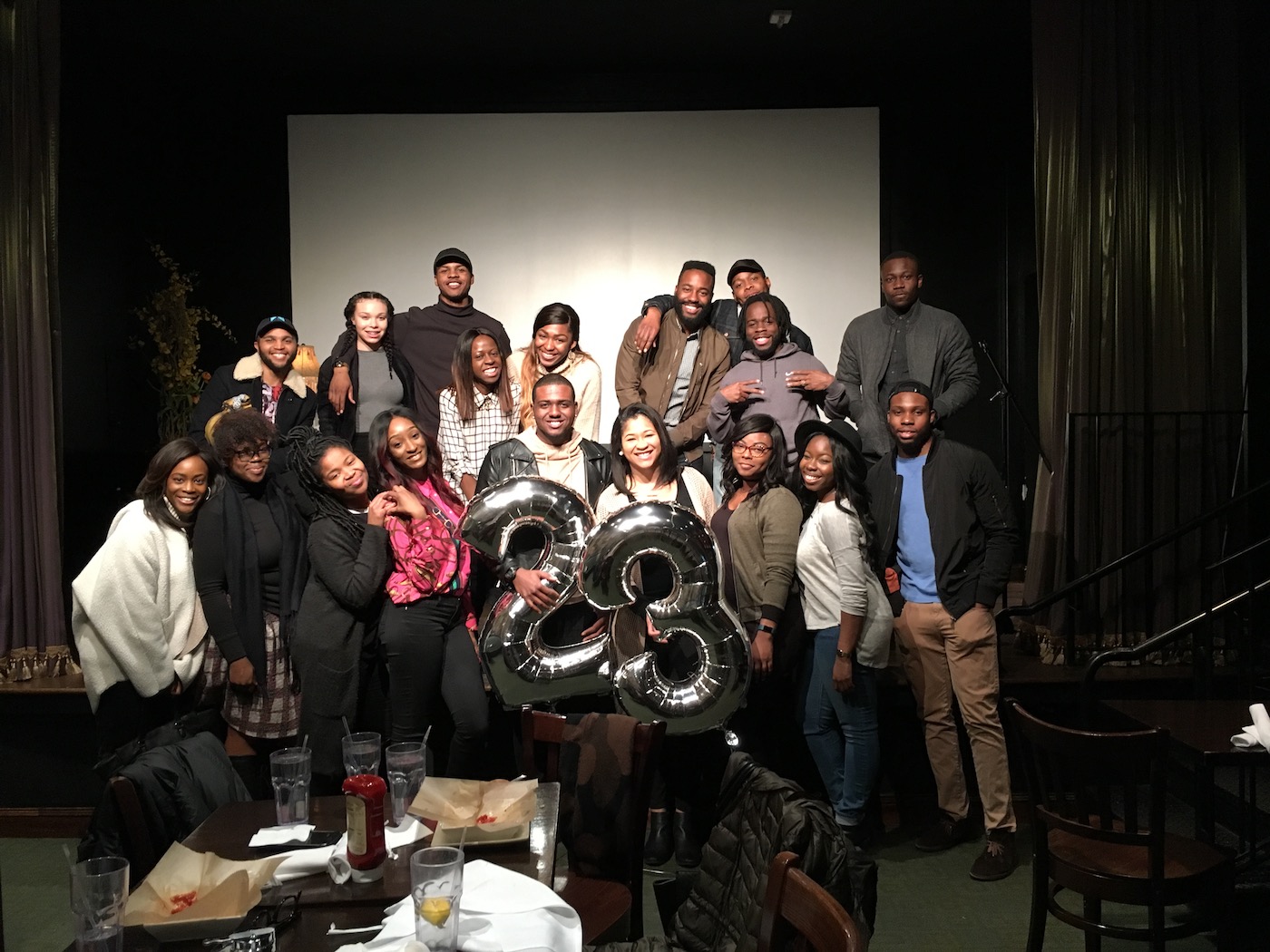 So we found out from Instagram that Pauline and Tim, who are now married, had their first date at Busboys and Poets. Then Tim proposed to Pauline at the Hyattsville open mic! We asked them to tell us about their first date, how they found each other and relationship advice!
What did you two order? Where did you sit?
P: It was incredible! I actually was battling a head cold the whole week, but Tim made sure I didn't miss our date and brought me medicine and tissues to ease the symptoms. First, we went mini golfing in the middle of October, so it was really cold but we had the whole place to ourselves. Of course, I won!
T: After, we headed to Pauline's favorite restaurant, Busboys and Poets in Hyattsville. I got the crab cake sandwich and she ordered the grilled chicken panini. We sat in the event room of the restaurant, which has a romantic vibe. We were lucky because that area of the restaurant is usually closed off for special events. We love your customer service!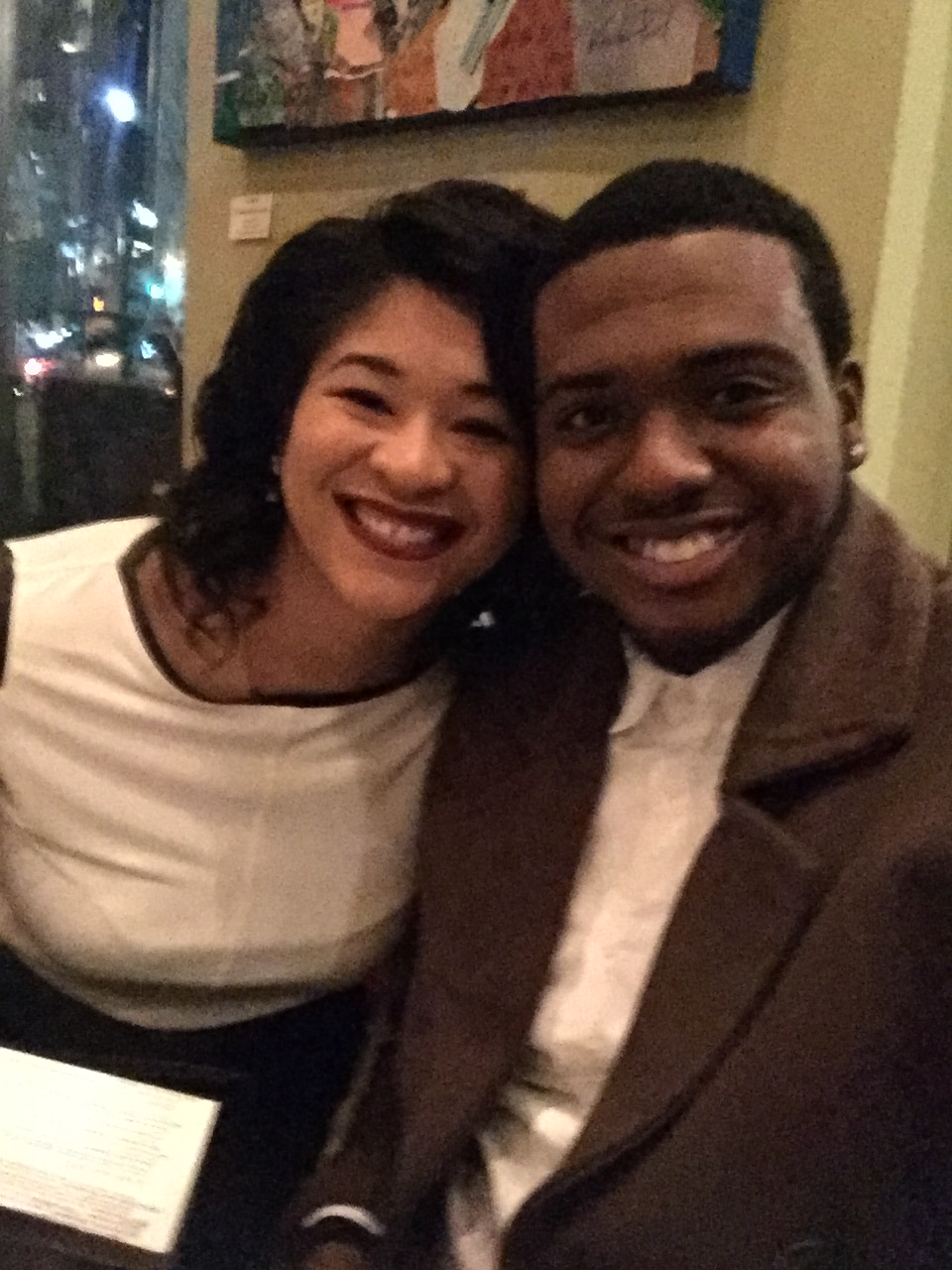 What were your first impressions of each other?
P: I first met Tim at a group on the UMD campus, where we both went for undergrad. I thought he was quiet and somber. After we spent more time together, I learned he is a really hard worker, peaceful, and kind. It wasn't until we became interested in each other I saw how funny he is!
T: I thought Pauline was very passionate, bold, and smart. All three of those things have been confirmed to be true over the course of our relationship. She is incredible!
What made you decide to bring her back to Busboys to ask her to be your girlfriend?
T: I knew it was her favorite restaurant. So I played it safe and took her there. I am very simple; If I know something works, I do it. Luckily for me, Busboys and Poets has a very nice vibe and decor that makes it a great spot for a date.
How did the proposal happen?
P: We have two friends, Janet and Jamal, who recently got engaged at the time and perform together. They invited me and some friends to support them at the Busboys open mic night on Thursdays. I've attended many of these events, so I didn't think anything of it. I knew Tim couldn't attend because he had a class on Thursday nights. One of my friends picked me to go to the event and on our way there, I got a phone call saying to meet the rest of the group at a park to take pictures before the open mic night. I did not want to go because I was not dressed for pictures! But this isn't out of character for my friends. When we pulled up to the park around the corner from the restaurant, I saw Tim there all dressed up and I was so mad! He got me good. Janet and Jamal sang my favorite song, Tim shared a poem, and he gave me the most beautiful ring I've ever seen!
T: I knew it was going to be hard to surprise Pauline because she always pays attention to detail. So, I was determined to plan this proposal without her knowing. I had two of her friends, who are a couple and sing, tell her that they were singing at the Busboys Thursday open mic night. I told her I could not go because I had a meeting I had to attend, and I normally had meetings on Thursday, so she was not surprised I could not make it. We went to the Busboys and Poets in Hyattsville and I knew that there was a park close by to the restaurant that would be the perfect area to propose to her. The friends she went with convinced her to stop at the park before the open mic night. When Pauline pulled up to the park there I was surrounded by other close friends, rose petals, candles, and her two friends who were singing a duet of one of Pauline's favorite songs by Taylor Swift, "Everything Has changed". After they finished singing I read her a poem I wrote asking her to be my wife and the rest is history!
What values are important to you as a couple?
P: Top of the list is generosity! The greatest way to display love is through giving, whether it's a hug, kind words, food, or a gift. I always want to make sure he feels I am adding value to his life through our marriage. Second would be security/safety. The world can be a very cold and harsh place and I want our marriage to be a safe space for both of us to be honest with ourselves and each other about what we need.  It takes intentional habits to make this happen and it is not easy, but it is so worth it!
T: Friendships are huge for us. Pauline says all the time that you will not have a good romantic relationship if you are not a great friend and that is so true. We try to be great friends to other people, but also make sure that our friendship with each other is strong. If you stay friends, I believe that will make it easier to stay in love because you will want to be around the person and make them happy and serve them. Really hard to do those three things every day for someone who is not your friend.
As #CoupleGoals, what's some advice you can give to others who are in partnerships or looking for the right person?
P: Become the person you want to date. Often, we can have unrealistic expectations of the person we want and we ourselves aren't living up to those standards. We are who we attract. This also reminds us that we are in a relationship to give, not only receive. If we are only looking for what someone can offer us, but we can't offer them the same, we are inviting selfishness into our hearts, not love.
T: Don't rush the process, take time to get to know the person you are dating or want to date. Learn what makes them happy, sad, disappointed, excited, and what they value. Learning those things will help you know if you should continue the relationship and it will show you how to best serve that person in the relationship.
Would you recommend Busboys as a first date spot?
P: Absolutely! It's a great space to gather friends and family for any occasion. I've had multiple birthdays here, along with my graduation dinner, our first date, and here Tim asked me to be his girlfriend. I always bring out of town family and friends here to get a taste of DC culture!
T: Busboys is a great place for a first date, it has a great romantic feel with the dim lighting and the food is extremely tasty, but very affordable. If you are a little nervous about sparking conversation, you can take your date to an open mic night and allow the show to create conversation for you and make the night more special.
Have a first date story?  E-mail us at press@busboysandpoets.com