The Transitioning to Vegan panel, hosted by the Congressional Vegetarian Staff Association's Maureen Cohen Harrington and Adam Sarvana took place today at the Russel Senate Office Building. It was a packed house with some awesome vegan advocates and a great introduction to the upcoming DC VegFest celebration highlighting vegan businesses and products.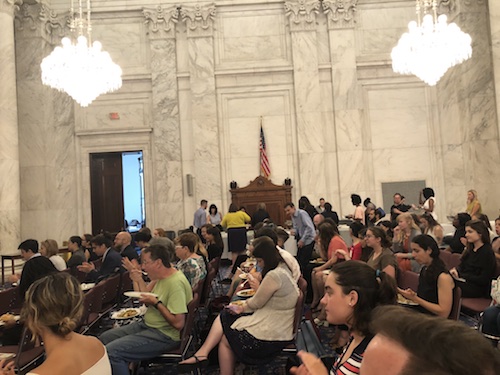 The panel included:
Senator Cory Booker, the Senate's most outspoken vegan
Andy Shallal, founder of Busboys and Poets, an increasingly vegan restaurant and community gathering space
Jasmine Leyva, director of The Invisible Vegan, a documentary about the black vegan experience
Leilani Münter, a race car driver who has given vegan food to thousands of NASCAR fans at Daytona and Talladega
Nzinga Young, Greater NYC Community Events Coordinator, Vegan Outreach (10 Weeks to Vegan Program)
Erica Meier, Executive Director, Compassion Over Killing (DC VegFest, VegWeek)
Adam Zipkin, Counsel to United States Senator Cory Booker, and vegan
Tracye McQuirter, author of recently-released Ageless Vegan, and of By Any Greens Necessary, a national best-seller
Dr. Milton Mills, member of the National Advisory Board for Physicians Committee for Responsible Medicine (PCRM)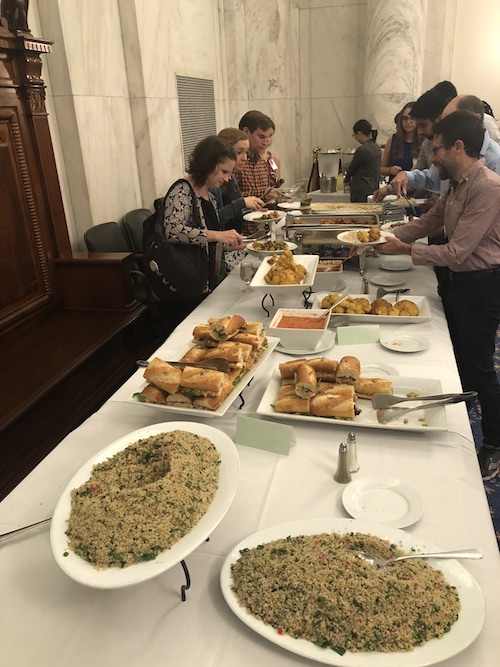 We were thrilled to provide plant-based vegan options, including our fried cauliflower sandwich, vegetable curry and vegan tofu bites, to support the non-partisan Congressional staff association and introduce attendees interested in vegetarianism to new food possibilities.
Erica Meier of Compassion Over Killing runs the DC VegFest, the largest vegan gathering and celebration on the east coast with upwards of 25,000 people coming to Yards Park in Northeast, DC to explore vegan foods, authors, musicians, and to learn about how to create a sustainable animal-product-free lifestyle.
Busboys has been a sponsor of the DC VegFest for the last 4 years and this year we'll be running a Busboys beer garden, book tent, food tent, and live music stage with local bands that we'll be announcing shortly.
This year's VegFest is September 15th at Yards Park in Northeast, DC from 11am-6pm. Free entry. We encourage you bring cash for beer, food, books, merch and other plant-based, environmentally-friendly items! Hope to see you there!