Busboys and Poets is built, in part, on the premise of being a place where, "arts, politics and culture intentionally collide." So there is no better place for Candice Taylor's Crown Act Mural to be displayed than on the side of a wall of Busboys and Poets in Anacostia. The 2019 Crown Act was created to end hair discrimination in the workplace and public schools. While it seems unbelievable that such a law even needs to exist, so far, only 13 states have passed the law to ensure statutory protection to hair texture and styles such as braids, locs, twists, knots, etc.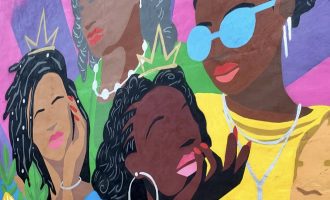 The beautiful, black women in the mural will be holding up a side of Busboys, a company built, in large part, by beautiful, black women who serve at every level. Your hair does not affect your ability to do your job or learn in school. Yet the policing of black bodies, hairstyles, and minds is a distracting preoccupation in many workplaces and schools throughout the US and throughout history.I interview a lot of people and, in that first interview, I say that Busboys wants everyone to bring their full, authentic self to work. I don't care for tattoos, for example, but if you have them, flaunt them. We want our employees to bring their style, but within limits. If you belong to a nudist colony, we don't want you to bring your full, full self, for instance. Anyway, after individuals are hired, there is often a complete transformation once they start working, especially with black women. Hairstyles that are often considered necessary to secure a job fade away and are replaced by a free, natural, and relaxed expression of self.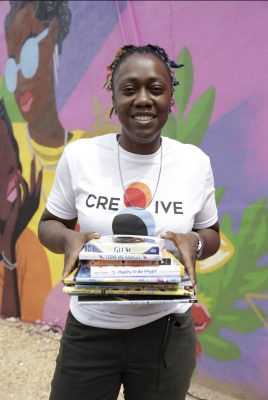 Additionally, I don't think we should underestimate the power of murals. For the last 6 years, my daughter and I passed a mural on the side of a hair salon in the heart of DC on our way to her elementary school. We made it a daily ritual to greet the black woman in the mural. For me, it was important that she reflect – if just for a moment – on a larger-than-life image of herself every day to start her morning. That faded mural is slowly being erased by graffiti and gentrification so this Crown Art Mural is needed now more than ever so young, black girls can see positive images of themselves and their hair each and every day.
I work at Busboys and Poets so that my children can see themselves on the walls inside of Busboys but now, through this amazing mural, they can see themselves on the outside as well. And through this mural unveiling, young, magical and free black girls know they can become artists, mayors, PR creatives, or VPs of companies, valuing both what is in our heads and what is on our heads.
---
The #CROWNMural is now live in Washington, DC! Created by the talented Candice S. Taylor in partnership with @Dove and the #CROWNCoalition, the #CROWNMural celebrates the beauty and power of our CROWN! Stop by if you're ever in the area, snap a pic and help us #PassTheCROWN! pic.twitter.com/MYRnASCOip

— The CROWN Act (@thecrownact) July 8, 2021