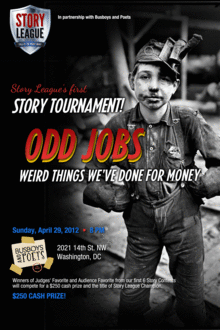 Story League Tournament: "Odd Jobs"
14th & V
| Langston | April 29,2012 | 8:00 pm - 10:00 pm
Winners of Judges' Favorite and Audience Favorite from our first 5 Story Contests will compete for a $250 cash prize and the title of Story League Champion.
THEME: "Odd Jobs - Weird Things We've Done for Money"
HOST: Doug Powell (Beery Burglar, Farmer, Comedian)
* Gowri K. (BloomBars & Busboys and Poets)
* Liz Green (First Person Arts in Philadelphia)
* Christian Hunt (The Capital City Showcase)
FEATURE: Bridget O'Neill (Moth StorySlam winner; Producer, Soundtrack Series, NYC)
TICKETS: $15 at the door or $12 online.
VENUE: Busboys and Poets (14th & V) - 2021 14th Street NW, Washington, DC 20009 (corner of V and 14th streets)
Presented in partnership with Busboys and Poets.
Share this event:
< Back to Events