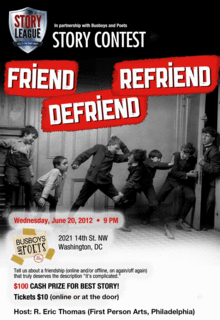 Story League Contest DC: Friend, Defriend, Refriend
14th & V
| Langston | June 20,2012 | 9:00 pm - 11:00 pm
HOST:
R. Eric Thomas (First Person Arts, Will You Accept This Friend Request?)

RULES: Our 3 expert judges will consider all story submissions before the contest begins and decide which 9 they most wish to hear. Tellers have a maximum 7 minutes to tell a true story on the theme "Friend, Defriend, Refriend: Stories about relationships that truly deserve the description 'It's complicated'." At 6 minutes you will receive a signal that you only have 1 minute left. No notes or props may be used onstage.

The winner will be announced at the end of the night and will receive $100 cash as a prize. The audience will also select its favorite!

Submit your 100-word story synopsis here: http://www.storyleague.org/submit-your-story/ or fill out a card at the show.
About Story League
Since March 2011, Story League has presented sold-out story shows around D.C. Founded by writer/performer SM Shrake (The Moth story slam winner, This American Life, Mortified) along with the author (Up for Renewal) and journalist (Washington Post, The Atlantic, Washingtonian, DC Magazine, Washington City Paper) Cathy Alter, Story League was born of the desire for a collaborative story-performing experience, in which the participants all help one another hone their craft.
Share this event:
< Back to Events