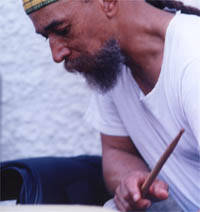 Busboys and Poets Presents Tuesday Night Open Mic Poetry hosted by Saleem Waters
14th & V
| Langston | May 29,2012 | 9:00 pm - 11:00 pm
Tuesday Night Open Mic ! A Busboys and Poetry Event. For two hours audiences can expect a diverse chorus of voices and a vast array of professional spoken word performers, open mic rookies, musicians and a different host every week.
Tonight's host is Saleem Wayne Waters
Saleem Wayne Waters is a composer, arranger and multi-instrumentalist musician who plays marimba, wind synthesizer and African/Brazilian percussion. He blends a mixture of jazz, Caribbean, world beat, spiritual, blues, classical and new age music to create a variety of universal, relaxing and provocative sounds. Saleem has composed soundtracks for three documentaries, and developed musical workshops for Washington metropolitan area public and private schools.
He has travelled internationally and performed in South America, Europe and the Caribbean. In addition to his appearances with Bottomland, he is currently working on a soundtrack for a community development and design video; and he is exploring the healing properties of sound.
TONIGHT'S FEATURE: Bonafide Rojas
bonafide rojas is the author of "when the city sleeps" (grand concourse press, 2012)& "pelo bueno: a day in the life of a nuyorican poet" (dark souls press, 2004). the 2002 slam this! champion & has been on two national poetry slam teams, nyc/union square 2002 & wicker park 2003.
He has appeared in russell simmon's "def poetry jam" season IV & has been published in the anthologies & journals: "bum rush the page: a def poetry jam" (three rivers press, 2002), "rolecall": a generational anthology of social & political black literature & art (third world press, 2002), "learn then burn" (write bloody, 2010), "mi no habla con acento" (rebel satori press, 2011), the centro journal, letras, the hostos review, the acentos review, the calabash journal, & palabras.
He has performed nationally at venues & colleges: lincoln center, museum of the american indian, el museo del barrio, the bowery poetry club, the nuyorican poets cafe, voz alta, pregones theatre, the puerto rican traveling theatre, m.a.c.l.a, the point, the guild complex, amherst college, umass-amerst, hampshire college, syracuse, suny binghamton, uc-berkeley, uic-chicago, nyu & columbia university.
Expect to be moved, expect a packed house, expect the unexpected, but above all come with an open mind and ear. List opens at 8:30 PM. Sorry, No Refunds.
Wristbands are available for purchase at $5 available online midnight prior to the event, and on-site at the Teaching for Change bookstore from 10:00am until sold out. Limit 4 wristbands per person. Sorry, no refunds.
Share this event:
< Back to Events